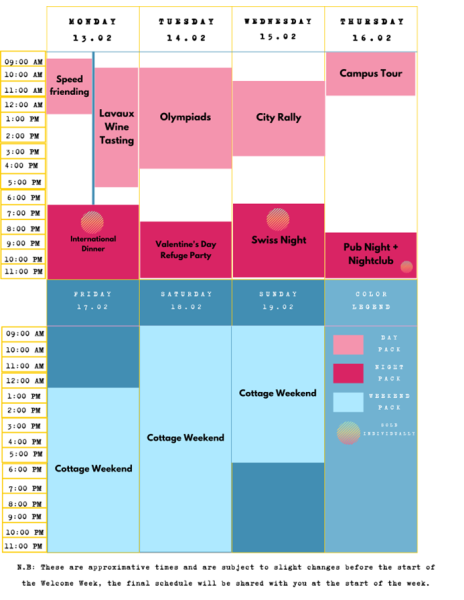 Speed Friending

When?
Monday, February 13
between 9AM and 12:30PM

Where? At Grande Salle du Motty

What? You just arrived in Lausanne and cannot wait to meet new people? You don't want to miss the week's official kick off, an ice breaker event that will help you start the Welcome Week the best way possible! You'll be meeting all the fun folks you'll be spending the semester with, through fun and imaginative games. And don't worry if you find it too early: we'll be having loads of food for you to snack on!

 

Included in: Days pack

Included in: Days pack

Lavaux

When?
Monday, February 13
between 11AM and 5PM
Where? Excursion in the Lavaux.
Meeting point: Grande Salle du Motty

What? Right after the SpeedFriending, we'll take you to the heart of the magnificent Lavaux region, a UNESCO World Heritage Site where we find terraced vineyards and producers of exceptional wines. You will get the chance to enjoy a local wine tasting in the cellars of the Castle of Lutry, in addition to a walk with breathtaking views of the vineyards.

International Dinner 

When?
Monday, February 13, 7PM-12AM

Where? At Grande Salle du Motty

What? Ready for your first official ESN party? It's your chance to share how awesome the food of your country is and taste dishes from all around the world! Moreover, some activities will take place during and after the dinner. You will have to cook a typical dish from your country in order to make a huge buffet! We will take care of bringing drinks and traditional Swiss food. Feel free to represent your country as much as possible, we hope to see you dressed in your country's style.

Price: 10 CHF This event can be purchased individually. 
Included in: Nights pack

Olympiads

When?
Tuesday, February 14, 10AM-5PM

Where? At the Gymnase Auguste Piccard

What? A handful of challenges await you in this Squid Game inspired olympiads! You'll need teamwork, communication, cohesion and a dash of luck to shine in this merciless world. Getting out of here alive and coming out victorious won't be easy feats, but glory, fame and riches will be bestowed upon those who do. So join us and show Lausanne, nay, the whole world that your team stands above all and is afraid of nothing!

→ This event requires to wear shoes with white soles ←

"Life is like a game, there are many players. If you don't play with them, they'll play with you."

~ Sun Tzu, the art of War


Please note: You must be over 18 years old to participate in this event.

Refuge Party : Valentine's Day

When?
Tuesday, February 14, 7PM-2AM

Where? At the Refuge d'Ecublens

What? Do you usually watch TV and eat chocolates alone on Valentine's Day? Well this year you will be changing things up by joining us for a night full of music, dancing, cocktails and Valentine's day themed surprises!


This event CANNOT be purchased individually.
Included in: Nights pack

City Rally

When?
Wednesday, February 15, 11AM-3PM

Where? Lausanne downtown (meeting point will depend on your group)

What? Time has come to discover the wonderful city of Lausanne! Join us for a rally in Lausanne, and discover various neighborhoods, points of interest, bars & clubs to hang out, and local shops to buy items and food from Switzerland. Your local ESN committee will present you the city as they know it, to give you all the keys to spend a wonderful time here! We have planned some activities, and some surprises are waiting for you…


Included in: Days pack

Swiss Night

When?
Wednesday, February 15, 7PM-12AM

Where? At Grande Salle du Motty

What? Forget about fondue! Let's discover Raclette, the best way to eat melted cheese. Dive into Swiss culture and come enjoy what is considered to be the absolute peak of our local culinary art with the undisputed RACLETTE!

This event can be purchased individually.

Included in: Nights pack

 

Campus Tour

When?
Thursday, February 16, 9AM-11AM

Where?
At the EPFL or UNIL Campus (meeting point to be confirmed)

What? You're about to start the semester! This is your opportunity to get a personalized tour around your future campus. You will learn about the facilities and the cool spots on campus while performing fun challenges with your teammates.


Included in: Days pack

This event can be purchased individually.
Included in: Nights Pack

Please note: You must be over 18 years old to go to the nightclub

Swiss Night

When?
Thursday, February 16, from 6PM

Where? Lausanne downtown (meeting point to be confirmed)

What?

After the Campus tour, we'll go for drinks in town! We will have some deals in cool bars for you. The pub night is not included in any of the tickets and will be open to everyone. So join us for a drink, or two, or three… ;) The evening will continue with a club night. If you like music and dancing, this event is for you! And wait until you know the surprising theme for this party..!

Price: 10 CHF
Chalet Weekend
When? From Friday, February 17 at 1PM to Sunday, February 19 at 7PM

Where? Bethania Retreat, Bürchen

Price:
Option 1 - Snowshoeing (200 CHF)
Option 2 - Cross-Country Skiing (200 CHF)

Option 3 - Thermal Baths (210 CHF)

Please note: You must be over 18 years old to participate in this event.
What? Come and experience a crazy weekend in the Swiss mountains!
To start the weekend off right, Friday afternoon will be full of board games and other fun activities to get to know each other, before the real weekend starter - a Glow in the Dark Party. For this event, make sure you bring an old white t-shirt, to let your creativity run wild. If this is your first fluo party, you're going to love it.
On Saturday you will have the opportunity to choose between three different activities:
First, you can choose between two types of winter sports: Snowshoeing (it's like walking but with snowshoes on your feet) and Cross-Country Skiing. * **
If you're not really into winter sports, you can opt for a relaxing afternoon at the Thermal Baths. 
For the last party of the Welcome Week, on Saturday night, cups will become illegal! Bring the craziest cup-substitute you can think of and join us for the Anything But Cups Party! It will do the trick as long as:
It's not a cup
You can drink from it
It fits through the door
The theme is XXXXXXX! The best container AND costume will be rewarded. We can't wait to see your non-cup!
Finally, on our way back to Lausanne on Sunday, we will make a short stop in Sion, for you to discover the best city of Switzerland (well.. this is only according to people from Sion).
*Please note that we need snow to do these activities and that if there is not enough snow, we will do a hike with a restaurant lunch instead. If there are any changes to the programme, we will inform you before departure for the chalet.
**Also note that for these activities, you will be much more comfortable in a snowsuit (at least a sports suit) and winter boots. We strongly recommend that you dress accordingly (or you will quickly get wet and/or cold, and you will hate us, which will make us very sad :( )